5 Tips for How to Choose a Wedding Venue
You've said "Yes" and now you're looking forward to saying "I Do"! But before you can enjoy that special moment, there's a lot that will go into planning your dream wedding, and one of the biggest decisions you'll have to make is where to host your reception. From intimate gatherings to large-scale celebrations, there's an abundance of venues to cater to each couple's needs. Here are our 5 tips for how to choose a wedding venue that will make your dream day a reality.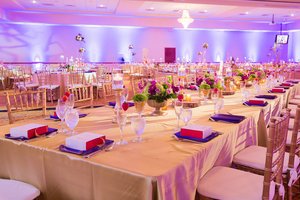 1. Create a Budget

It's no secret – weddings can get really expensive, really fast. From the décor, to the catering menu, to the entertainment, and more, there's a lot of factors that will add to your expenses. You'll have to keep all of these in mind in addition to the cost of renting out a space.
Creating a budget will help narrow down a list of venues that will allow you to stay within your allotted funds. If you're set on a specific venue that might exceed your original budget, you might want to consider scaling back on other expenses.
2. Choose a Date
Planning a scenic summer wedding or a charming autumn affair? If you're set on a specific day, ensure that the venues you're considering are available on your preferred date.
Being flexible on the date can also be helpful in choosing a wedding venue. Trying to book a venue during peak wedding season can get very competitive. If you're set on a specific space that's booked through the summer and early fall, consider having your wedding during the off season – prices might even be cheaper during that time!
3. Be Mindful of the Location
Finding the perfect venue won't matter if your guests aren't able to get to the celebration! Is the venue easily accessible by driving or public transportation? For out of town guests, are there convenient accommodations like a partnered hotel nearby?
The location can also play a big part in your budget. Depending on where you host your special day, you might have to look into arranging shuttle transportation for you and your guests. If you're considering a destination wedding, that might limit the number of guests that are able to attend.
4. Check the Venue's Capacities & Functionality
Are you planning a more intimate affair with your closest loved ones or dreaming of a grand and luxurious celebration with an extensive guest list? The venue should be able to comfortably fit everyone in your guest list, without being too big to make the celebration seem empty.
Consider the venue's spaces and room set ups. Whether you're planning to host the ceremony, a cocktail hour, or just the reception, be sure that the venue has the capabilities to actualize your vision.
Don't forget to ask about additional services like audiovisual equipment and catering services. Some venues might have a list of preferred vendors and set catering packages, while others provide customizable options and allow outside catering.
5. Be Clear About Your Vision!
The overall atmosphere and vibe you want your wedding to be can dictate what kind of venue you should consider. If you prefer a more rustic setting, then perhaps a grand hall in a bustling city isn't the best venue to consider.
On-site visits are integral in choosing a wedding venue. Be sure to chat with wedding planners and event coordinators who are there to help ensure you enjoy the special moment you've always dreamed of, and are happy to discuss how a specific venue can be tailored to your specific needs.
Here at Clarion Inn Elmhurst – Oakbrook, we are more than happy to help you with how to choose a wedding venue that's perfect for your special day. With versatile wedding spaces and services at our neighboring Waterford Banquet Center and dedicated wedding professionals to assist you every step of the way, we look forward to making your dream day a reality. Contact us today to learn more about our versatile wedding venue!